Making a Planetarium Show 101
Learn the secrets behind the dome and get the low-down on planetarium production in this blog post!
Published09/07/2021
Have you ever wondered what goes into making the mesmerizing fulldome shows you see in the Bell's planetarium? Our planetarium team graciously shared the secrets behind the dome and the low-down on planetarium production. Read more to find out!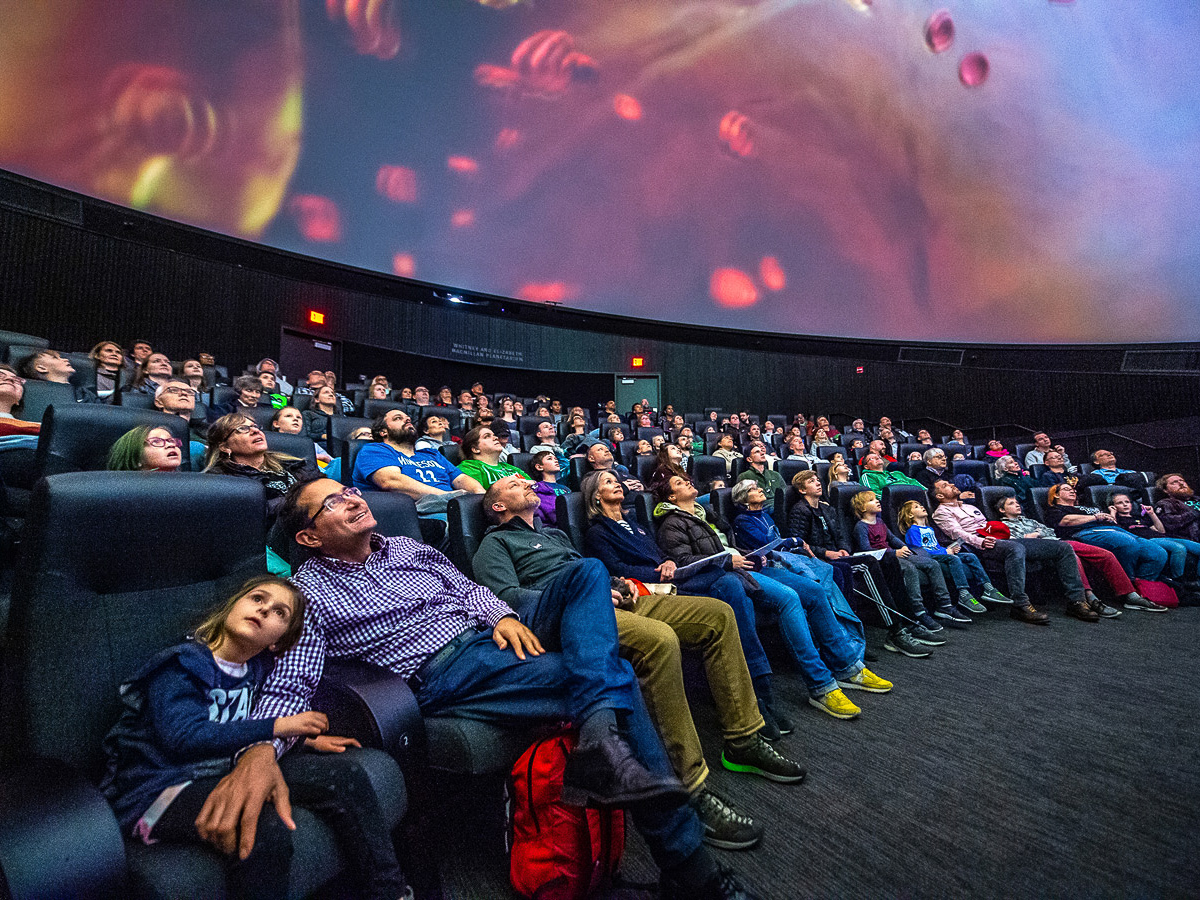 Step 1: Pick your topic
First things first. To create a planetarium show, you need to decide what your show will be about. When it comes to picking a topic, the skies are not the limit—planetarium shows don't always have to be about space! While a lot of standard planetarium shows used for fulldome presentations are built for astronomy, making these topics easier to cover, there's no need to stick with that. You can create a show about the Earth, the inside of your brain, or underwater worlds. A piece of advice from our Planetarium Educator Thaddeus LaCoursiere is to figure out what you love talking about and start there—especially since you're going to spend a lot of time working on it!
Step 2: Develop an outline
You've got your topic and that means you're ready to dive in and make a planetarium show, right? Before you jump in too quickly, our planetarium production team recommends starting with an outline! This step is important to help you flesh out the details of the show. Will it be live, prerecorded, or semi-live? What kind of story do you want to tell about your topic? What kind of visuals might guide the story? Your outline can help you answer some of these questions. 
When the Bell develops new planetarium shows, our planetarium team often reaches out to scientists and content advisors to help ensure the information being shared is accurate and true. So, you may want to consult professionals or advisors on your topic at this point.
Step 3: Write a script
With topic and outline in hand, now it's time to write the script! The script is important to tell the story about your topic—even if a picture is worth a thousand words, it still helps to have a guiding narrative! Often, for the Bell's live planetarium shows, the script just becomes a suggestion. Planetarium presenters are encouraged to expand upon the script—creating shows that are dynamic and change to meet the audience's curiosities and questions. Alternatively, for a fully recorded show, the script will be the same every time. These are important things to keep in mind as you're developing your story.
Sometimes, the Bell will outsource this step to other writers and other times the planetarium educators will write it themselves. If you don't feel comfortable with your story writing capabilities, this is a great time to invite a friend or budding writer into the mix. 
Steps 3 and 4—Scriptwriting and selecting visuals—often run parallel and inform each other. The images you find or assets that the software has available may steer the course of the script. If you're feeling stuck on the script, spend some time searching for visuals to see what they can inspire!
Step 4: Create your visuals
Now, for the part you've all been waiting for… it's time to develop the incredible fulldome visuals. Well, they might start out as simple renderings on your computer screen, but, it's a start. You might already have some visuals in mind from when you developed your outline, but this is the time to get a better idea and start developing the final product. 
The Bell's planetarium team uses a wide range of programs and techniques to develop their shows. Some of the programs they use are planetarium specific, such as Digistar, that allow you to fly through space. Other programs have more general applications, like Blender, an open-source 3D modeling software. It can also be helpful to have a familiarity with coding languages like JavaScript or Python. When creating planetarium visuals, feel free to experiment with different software, techniques, and processes—you can put virtually anything on the dome, it's only a matter of figuring out how!
You may even choose to use live-action visuals that you've recorded on a camera. If that's the case, you might need to invest in a couple of pieces of equipment. Namely, a fish-eye lens is helpful for capturing the 180º field of vision that the fulldome is capable of displaying. Pat O'Leary, the Production Coordinator for the Bell's recent planetarium show Minnesota Water Stories, shared that since there are many challenges to capturing live-action footage for the planetarium dome, it's helpful to reach out to other people in the field before getting started—they're usually excited to help!
Step 5: Troubleshoot & test
In Thaddeus' words, the next several steps would be "troubleshoot," "troubleshoot some more," and "troubleshoot again," and… you get the idea. Planetarium production often involves a bit of troubleshooting, trying new things, and, at times, frustration—but these woes can create exciting opportunities to find new and creative solutions to problems that enhance your skillset. Point is, planetarium production takes a lot of patience and is not necessarily an intuitive art—it involves writing, creativity, and curiosity along with technical skills such as learning coding languages and 3D modeling. Nonetheless, don't give up—planetarium production can lead to a world of possibility. 
Once you've completed troubleshooting your show and it's working properly, you'll want to test it. It's important to run through the show multiple times and in various different ways to make sure that, come showtime, nothing could possibly go wrong. While you're testing, invite friends or other staff to watch—it's a great way to gather feedback!
Step 6: Present 
Now, for real this time, the part you've all been waiting for… showtime! It's time to present your show in its fulldome glory. According to Planetarium Manager Sally Brummel, this is her favorite part of the whole process. It provides a chance to connect with your audiences and see all of your hard work pay off. 
Step 7: Get feedback and evaluate 
Lastly, it can be helpful to hear from your audiences about what they think! You may want to consider a visitor survey or other kinds of evaluation. This step is important because it can provide valuable insight that could help you improve your next show.
A few pieces of advice
While planetarium conferences are a great place for professional development, Sally shared that professional development for her really means seeing lots and lots of planetarium shows. It's incredibly useful to see how other people present different topics and develop their visuals because each planetarium presenter has their own unique style. 
Planetarium production requires a lot of patience and practice but can be an incredibly rewarding experience because it requires you to be continually learning and curious. 
"I've been in the field for over 20 years, yet it feels like I'm just getting started," Sally remarked.
Ready to catch a planetarium show? Learn more about our current shows and showtimes here!