Adventures in Plant Evolution
Get to know Ya Yang, the Bell's curator of plants.
Published05/13/2020 , by Eve Daniels
Ya Yang hiked to a glacier in the Sierra Nevada mountains. Lightning cracked in the distance. Yang and her collaborators found the plant they were looking for, pulled it from the icy water, roots and all. They recorded the plant, hurried to the truck, and placed the specimen in a liquid nitrogen tank. They drove back down, a thunderstorm looming behind them.
Collecting plants can be quite the adventure, as Yang can confirm. The curator of plants at the Bell Museum, Yang has traveled high into the mountains and deep into the deserts, among other extreme environments across the U.S., Mexico, and beyond—and she has many stories to tell. It's all in a day's work for a plant evolution researcher.
Currently, Yang is studying a group of plants that are close relatives of the cactus. Over millions of years, the plants have adapted and thrived in harsh, dry, salty, and/or icy environments. "You would think they would be dead, but they are healthy and growing," she says.
Back in her lab in the College of Biological Sciences, she studies plant DNA, morphology, and chemistry, comparing new specimens to the rest of the Bell's collection. The goal is to better understand how these plants cope with difficult situations. Her findings are important to the future of farming, medicine, and other human needs in the face of a changing climate.
A showy lady's slipper from the herbarium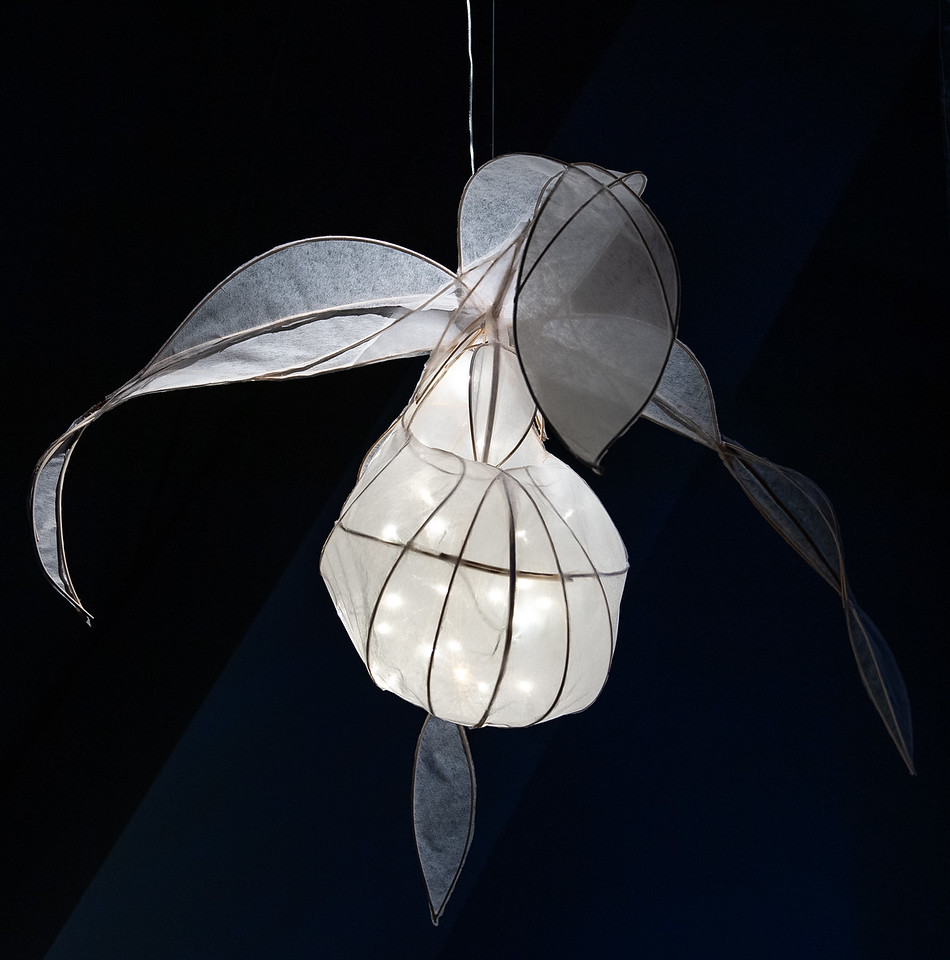 "People are trying to develop new plants that are able to grow in harsh environments," she says. "Learning the genetic tool kit that contributes to the plants' natural adaptation to such weird environments will inform plant breeding."
Yang and one of her graduate students are also studying carnivorous plants, such as sundews. In order to grow the sundews, they have to raise the bugs to feed them, which requires yeast to feed the bugs. So, they have the whole food chain happening in their lab.
Carnivorous plants use a defense mechanism that normal plants have, but they repurpose it into catching insects. "We're trying to figure out what genome changes enable these drastic changes in adaptation," she says.
"The University of Minnesota has one of the best plant and collection communities, as well as digital access to those communities... Add to this the outreach at the Bell Museum, and this really is a top place for plant evolution research."
Growing up in Beijing, China, Yang developed an interest in science at an early age. Her father was a professor in remote sensing and his office was downstairs from the Chinese Academy of Sciences' insect collection. As a teenager, she attended summer camps led by professors who specialized in plants, insects, and birds. In college, she focused on plant ecology and evolution—how plant groups relate to each other, how they evolve, and what makes them diverse.
Now, as an assistant professor in plant and microbial biology at the University of Minnesota, she tries to instill that same appreciation for plant diversity in her students.
"If you ask students what kind of plants they came into contact with today, many will give you a blank face. But they're part of everything from what you ate for breakfast to the clothes you're wearing. I want people to realize there are all these cool plants around us, doing all kinds of cool things."
Accessible and Accurate
Yang is just as passionate about outreach as she is about teaching and research. Along with in-person activities at the Bell Museum, this involves keeping accurate digital records, which feed into the online collections available to the public.
Right now, she's working to resolve any errors related to plant species identification, as part of her efforts on the Minnesota Biodiversity Atlas and the Endless Forms Thematic Collections Network project.
"The University of Minnesota has one of the best plant and collection communities, as well as digital access to those communities," says Yang. "Add to this the outreach at the Bell Museum, and this really is a top place for plant evolution research."