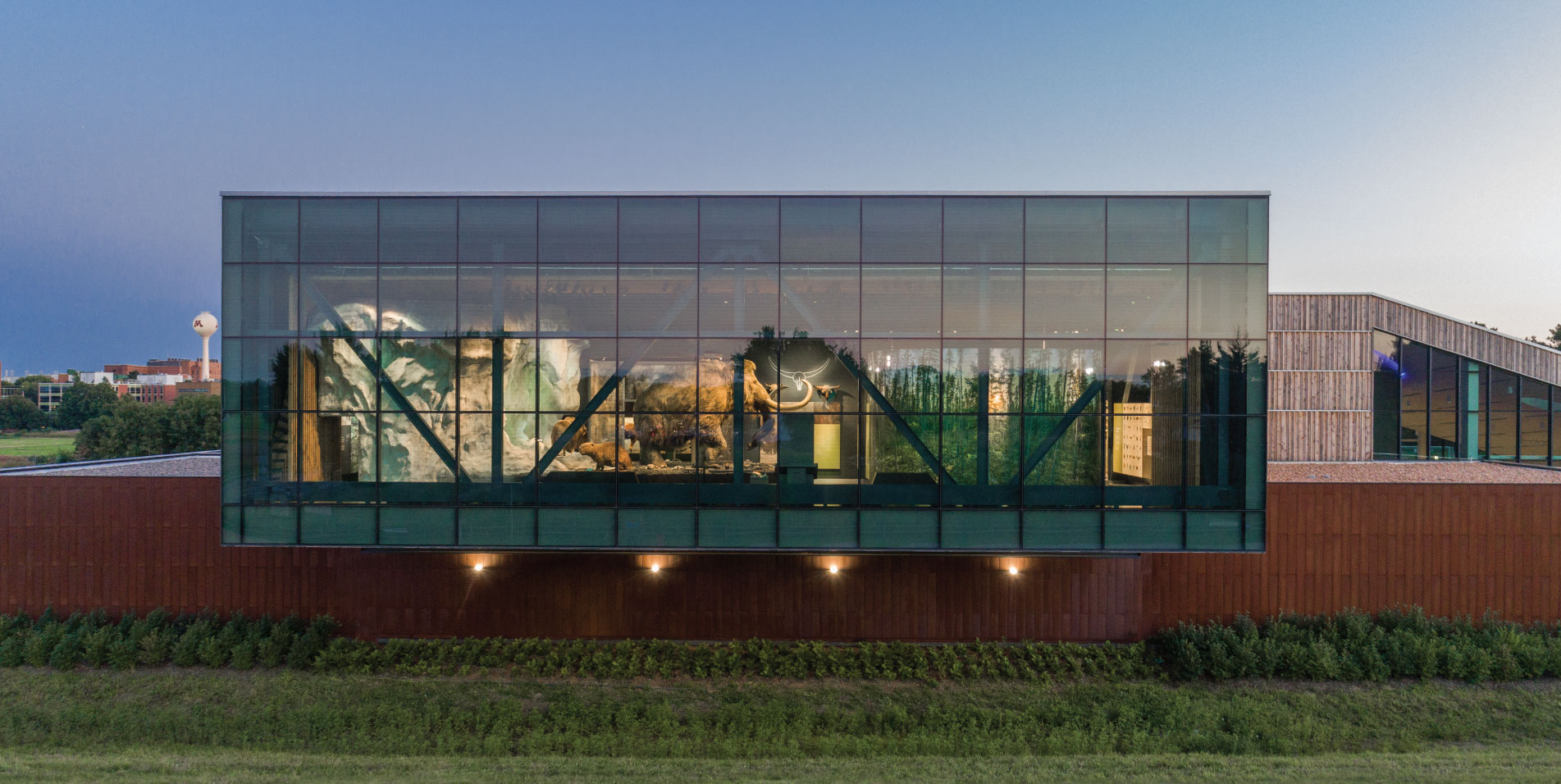 2019-2020 Call for Artists
Open to artists who live and work in Minnesota
The Bell Museum is seeking four resident artists for the 2019-2020 cycle of our Resident Artist Research Project (RARP). Since 1872, the museum has collected, preserved, interpreted, and displayed the natural history of Minnesota as the state's official natural history museum. With the opening of a new facility in July 2018 that includes a state-of-the-art digital planetarium and a five-acre outdoor learning landscape, its role is expanding to become the gateway to the sciences at the University of Minnesota. While natural history remains a bedrock for the Bell, astronomy and space science, health and medicine, agriculture and the environment, and other areas afford the museum opportunities for new partnerships and experiences for public engagement.
Our museum-based artist residency program invites dynamic candidates from all disciplines to investigate artistic practice as a lens for science discovery in four, 12-15 week residencies taking place over the span of 18 months. RARP is made possible in part with generous funding from The McKnight Foundation.
This program offers artists a unique opportunity to engage with Bell Museum curators and staff, University of Minnesota research, scientific collections, and other extraordinary resources while exploring the potential of art as a medium to interpret science in the public realm. Applicants should consider their artistic work and process in the context of the following "Big Ideas:"
Frontiers of Discovery
Exploring the leading edge of science and the quest to see, experience, and understand the unknown. We're thinking about diverse concepts — from the future of human space travel (what's our next "moon shot"?) to understanding the neuroscience of decision-making through the lens of natural history.
Collecting & Curating
Working broadly with concepts of gathering, preserving, administering, and exhibiting "specimens."
Ways of Knowing
Engaging the public in connecting current scientific research and discovery to diverse cultural knowledge and differing ways of thinking about the world.
Immersive Experience
Using immersive technologies to create opportunities that allow one to wholly experience and explore environments that may be familiar or unknown, be it the outer reaches of the cosmos, an agricultural field, or the intricate connections within the brain.
Residencies are open to individual and collaborative artists of all disciplines, including (but not limited to) writers, poets, storytellers, dancers, designers, map makers, musicians, video and film artists, as well as artist collectives. Excellent candidates may be makers of 2D or 3D objects and/or have experience in performance, events, installations, new (immersive) media, social practice, or audience-activated artwork. Artists will work collaboratively with the Bell Museum public engagement and science learning team, as well as with the museum's curatorial, academic, and/or research staff, University of Minnesota researchers and faculty, and possibly one another. This opportunity is only open to artists who live and work in Minnesota.
Application Deadline: 11:59pm, Sunday, January 20, 2019.
See details and instructions below. Interviews with semi-finalists will take place February 18 – March 1, 2019. Resident artist selection is expected by the March 18, 2019. All residencies will be completed between March 18, 2019 and August 31, 2020.
This program is funded in part through generous support from the McKnight Foundation.
Position Summary
Schedule – Range from 2-10 hours per week, flexible depending on individual projects.
Term – 12 to 15 weeks.
Compensation – $4,000 term stipend plus $500 materials budget and funds (up to $2,000) to support exhibition or special performance per residency.
Venue – Bell Museum, 2088 Larpenteur Avenue West, Saint Paul, Minnesota 55113
Reports to – Leah Peterson, Adult Programs Coordinator
Qualifications
Ideal candidates have five or more years of artistic experience and possess the following traits and competencies:
Adaptability – able to learn quickly and thrive when immersed in new subject matter and unfamiliar environments such as research labs and scientific collections.
Scientific Thinking – actively uses scientific ways of thinking such as observation, inquiry, and critical evaluation.
Self-Direction & Collaboration – comfortable taking initiative and adept at working with a variety of people.
Public Engagement – develops tools and methods for communicating their knowledge, passion, and curiosity to a diverse audience in doing and discovering science.
Artistic Voice – cultivates a robust personal artistic practice and direction, as well as a working knowledge of and enthusiasm for a wide range of artistic work.
Responsibilities
Meet regularly with museum staff
Work with scientists, curators, students, museum staff, and the public
Propose and adhere to an approved timeline for project research, development, and exhibition
Develop a project budget and spending schedule
Meet all marketing and operations deadlines
Develop a public installation, activity, or performance that is accessible to a broad audience
Create opportunities for spontaneous or ongoing public participation
Participate in a public engagement event featuring the resident artist's work
Participate in Northern Spark arts festival, if applicable
How to Apply
Submit the following required application materials per the instructions below. Please upload three separate PDF documents.
Cover Sheet (YourName_CoverSheet_RARP_2019_20.pdf)
Include 3 references
Link to an online portfolio containing images, video, or other appropriate documentation of at least 3 artworks
Letter of Application (YourName_Letter_RARP_2019_20.pdf)

Your artist statement and how it relates to the Resident Artist Research Project;
How you meet the qualifications;
Your interest in, understanding of or experience with one or two of the following topics:

Evolution, Ecosystems, & Biodiversity – evolution, biodiversity, habitat loss, extinction
Global Earth & Planetary Systems – climate change, astronomy and astrophysics, cosmic exploration
Human Health & Medicine — neuroscience, biotechnology, One Health (where the health of humans is connected to that of animals and the environment)
Connecting People with Nature – food and water systems, cultural knowledge, resilience & sustainability
Public History, Storytelling, & Cross-Cultural Communication – museums as institutions, collective memory, cultural diversity;
An example of how you might connect your chosen topic to one or more of the "Big Ideas" cited above (Frontiers of Discovery, Collecting & Curating, Ways of Knowing, Immersive Experience).
Curriculum Vitae (YourName_CV_RARP_2019_20.pdf)
Submit Your Application
More Information
Questions about the artist residencies will be accepted by email only at pete1313@umn.edu.
Deadline for all questions is December 26. Responses will be issued via email by December 28.
Application Deadline: 11:59pm, Sunday, January 20, 2019.